The Future Is Ahead
As broadband quickly becomes a necessity in the business world, facing network security threats become inevitable. Breaches can evolve into highly sophisticated attacks to paralyse networks and to steal sensitive information. In response to such attacks, small businesses have to meet the great challenge of securing and protecting their networks.
We have partnered with Zyxel to provide your business with a reliable and comprehensive firewall solution. The Zyxel USG series is designed for small and medium sized business' to provide real-time inspection and multi-layer firewall protection to prevent your network from threats. It benefits from a number of advanced features all provided by a single unit, including:
Stateful Packet Inspection (SPI) Firewall
Anti-Virus (AV)
Intrusion Detection & Prevention (IDP)
Content Filtering
Anti-Spam
VPN (IPSec/SSL/L2TP)

Robust firewall security without sacrificing performance
The ZyXEL USG Series firewall is built with a powerful Integrated High-Performance Security architecture that provides real-time inspection to prevent networks from threats without sacrificing performance. Corporate networks are not only flawlessly secured but also get significant performance enhancements on productivity and efficiency since file loading, emailing and information searching applications are processed at higher speeds.
IPv6 support
The ZyXEL USG Firewall Series is IPv6-ready today and is certified with "IPv6 Ready" gold logo. With IPv6 feature enabled, the USG Firewall Series ensures businesses with a smooth migration path from the IPv4-based networks to the full IPv6 infrastructure.
It assigns IPv6 addresses to clients and passes the IPv6 traffics through the IPv4 environment. The USG Series supports dual-stack and IPv4 tunneling (6rd and 6to4 transition tunnel) implementations for Internet connectivity to access IPv6 applications.
3G card support
The ZyXEL USG Firewall Series not only supports multiple WAN ports but also 3G networks through USB or PC cards.
With 3G connections, the USG Series enables load sharing or failover to deliver highly reliable network connectivity; it also supports more 3G cards with generic driver to ensure excellent interoperability. Since the customers don't have to purchase specific 3G cards to save cost.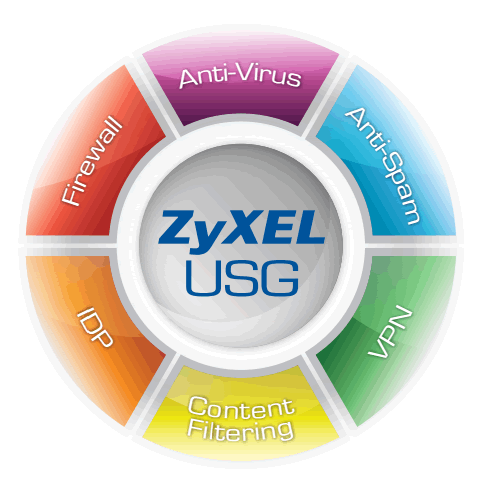 The complete firewall solution
With a single ZyXEL Unified Security Gateway, businesses get all the protection that they need. They effectively safeguard business networks from every possible threat with a wide range of security functions such as anti-virus, anti-spam, VPN, content filtering, IDP and firewall. Their all-in-one design helps businesses minimize management efforts and total cost of ownership (TCO), while maximizing network security.
Want to know more?
Download the Zyxel e-brochures here or watch the video to learn more about how the USG series can benefit your business.