Discounted Voice and Line Rental Supported by a Great Service.
We are a leading supplier of line and voice calls using the latest developments in both telephony and IT digital IP services. A reliable and cost effective phone system is vital for all businesses. Even with the rise in mobile working and internet-based call services, a standard telephony service is a utility that all businesses need, like electricity and water, so you need a guaranteed low cost solution. Many businesses are also taking advantage in call technology, such as digital and IP voice solutions.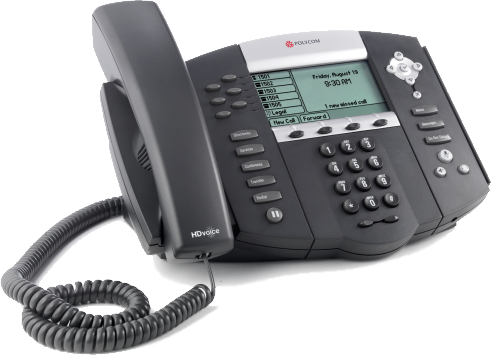 Why you should Choose Us
Receive a telephony service catered to individual needs
Competitive tariffs
Easy to keep existing numbers
Excellent, reliable customer service
Reach all national and international destinations across a wide variety of connection methods
Manage costs easily and accurately with flexible billing
Low cost call rates and line rental charges
Both analogue and digital lines catered for

3CX Phone System
Reduce Your Costs, Increase Your Productivity and Mobility with 3CX Phone System for Windows
Move to 3CX Telephony Phone System – an award-winning open standard Windows-based IP PBX that replaces traditional proprietary hardware PBX whilst providing enterprise-style features at a fraction of the cost.
Lower your company's call costs and truly globalize your business by leveraging VoIP Providers and bridging your offices for free inter-office calls.
Increase mobility by allowing your employees to take their office extension with them wherever they go!
Increase productivity with Unified Communications features that allow you to setup conference calls and web meetings in a matter of seconds and see the presence of your colleagues.
3CX Phone System supports popular SIP phones, VoIP providers and traditional PSTN lines. The web-based management console makes it easy to configure, eliminating the need to hire expensive telecom consultants.
Step into the future of web conferencing with 3CX WebMeeting – the new and unparalleled video conferencing platform which leverages WebRTC Technology for a seamless, user-friendly experience with no need for additional plugins or software.
We have been very pleased with the overall capability of Telephony 3CX Phone System within our business. With a Windows-based system, we have control over the phones and don't have to pay for support from our old provider.
10 Advantages of Telephony 3CX Phone System
Software based: Easy to install & manage
Inexpensive to buy and expand
Work from anywhere with iOS & Android clients
Leverage existing IT infrastructure & Server hardware
Save on your phone bill with SIP Trunks & Mobile / Remote clients
Integrated video conferencing using WebRTC
Better customer service with advanced call queues
Integrate with CRM & Accounting software
Standards based – use popular IP Phones, SIP Trunks
Click 2 Call from your website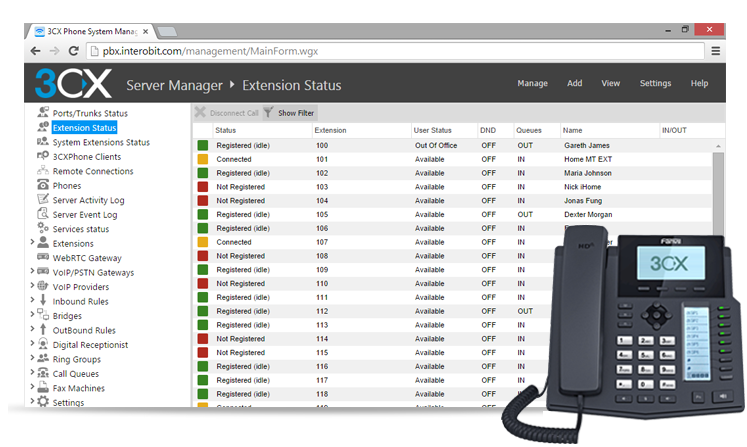 Leapfrog the Competition with 3CX Phone System Pro!
Boost your company's sales, increase your employee's productivity even further and provide better customer service than your competitors with 3CX Phone System Pro!
The Pro edition includes all the award-winning features of the Standard 3CX Phone System edition but also adds fantastic advanced call features that are geared to stepping up your customer service and ensuring your company stays ahead of the competition.
Advanced Call Features:
Never miss a call! Your customers can hang up and still retain their position in the queue. They're automatically called back when they reach the top of the queue.
Review how long your customers have waited in a queue before your employees took the call and see the amount of answered and unanswered calls.
Improve customer service by screening calls with the Listen In, Listen In and Whisper and Barge In feature.
Massively increase your employee's productivity by providing advanced call features such as real-time call statistics, wallboards, SLA alerts, a selection of queues and more! The Pro edition also includes seamless Microsoft Exchange Phone book and IVR integration.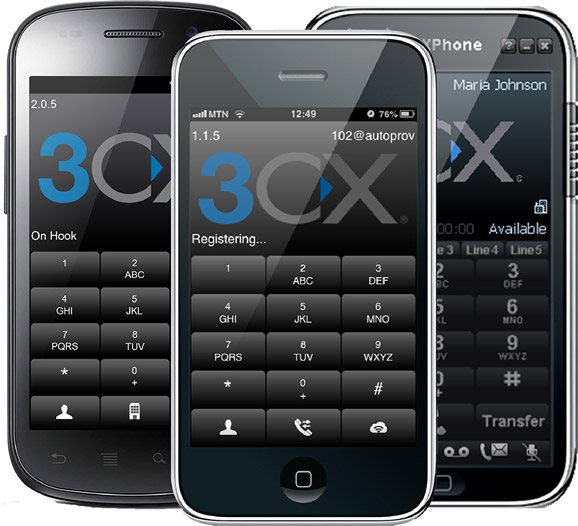 3CX Phone System Pro Key Features:
Monitor the status of queues by seeing how many callers are in the queue.
Log staff in and out of queues.
Review the time your staff logged in and out of queues.
Wallboards - Display real-time queue and call statistics directly on a monitor.
Additional queue strategies include:

Round Robin
Longest Waiting
Least Talk Time
Fewest Answered
Hunt by Threes - Random
Hunt by Threes - Prioritized

Get instantly notified when callers have been in a queue beyond the set SLA time.
Meet your customer service requirements by viewing all call events.
Key PBX Features:
Integrate Microsoft Exchange 2012 Server's Unified Messaging with 3CX Phone System for its voicemail and IVR.
Integrate your Microsoft Exchange 2012 phone book.
View remote 3CX installs and see the presence of your colleagues in other office from around the world.
Upgrade to 3CX Telephony Phone System Pro Today!
3CX Phone System Pro is a license key only upgrade, meaning all you need to do is purchase the upgrade from us and reactivate 3CX Phone System. Take a look at the upgrade pricing here. For more information on the Pro edition, give us a call today.
You can view the 3CX Datasheet and the 3CX Phone System brochure (PDF) or download 3CX Phone System for Windows here. If you require any assistance with setting up 3CX Phone System, we're happy to help.
Take a look at the 3CX WebMeeting datasheet and find out how your business can cut costs and increase productivity by leveraging WebRTC.
You can read more about 3CX and VoIP on the 3CX VoIP Blog and you can interact with the 3CX Team via the 3CX Facebook Page.