Job Tracker Professional in a nut shell.
Utilising latest technologies and best ideas, Job Tracker Professional was designed by business people for business people. With years of development under it's belt we deploy an easy to use job tracking system that you can run your business on. Manage your customer data and documents, create and manage estimates, jobs, purchase orders and invoices. Communicate easily with your mobile workforce, make sure you get paid and make sure you send out invoices. Enable your customers to track job progress on-line, this stops them calling you. Improve job tracking by reducing your paperwork and using the inbuilt document scanning feature. Send emails and create any kind of document from within Job Tracker. Access all your data from all PCs in your office. Share the diary system across your entire company. Integrate with Sage Line 50 and stop re-entering financial data. (Licence Required) Make Job Tracker Pro your own. Hide unused fields, program headings to use your own terminology, colour code job status, you can even put your own logo on the front screen.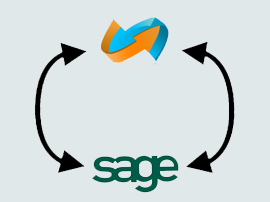 For many of our customers Job Tracker Professional is the only system they need.
Updates your customers and mobile workforce. With Job Trackers built in E-Mailing and SMS feature you can easily keep your customers informed about the progress of jobs. A happy customer is a profitable customer. Why not SMS the latest jobs right to your mobile workforce from within Job Tracker Professional. Design your own SMS templates so you're in control of exactly what information mobile workforce receives. You don't even need any extra hardware it's completely included and costs the price of a normal SMS.
FINDING THE RIGHT JOB QUICKLY
Job Tracker Professional keeps documents, photos, quotes, addresses, engineers details and costs; in fact just about every piece of information relating to a Job is kept in one place. This means you can easily and quickly get this information back. The very comprehensive built in search engine enables you to find a job by practically any information you wish. So when your customer calls you can easily get to the right job using friendly information like their name or address. Or if you prefer you can use job numbers, customer reference numbers, invoice numbers. The list goes on and on. Job Tracker Professional in a nut shell.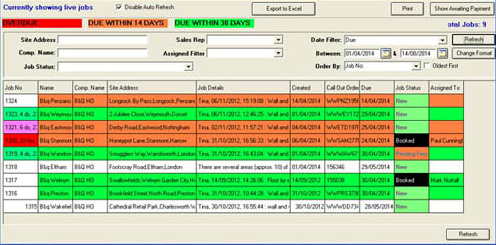 Job Tracker Mobile
Of course if you want more you can always add in our Job Tracker Mobile module enabling your mobile workforce to give you live updates and collect customer signatures. Job Tracker Mobile is designed for Android™ devices and provides support for your mobile workforce, empowering them with the information and tools they need to deliver quality service and manage maintenance services effectively and efficiently from the field. From a management perspective, our job tracking systems offer you real-time awareness of your team's activities, and the reporting you need to proactively manage and improve your company's operations.
Mobile Workers
Job Tracker Mobile empowers your mobile workforce to carry out jobs in any location in the most efficient way. Using intelligent caching technology it enables local copies of job data to be used in areas or buildings lacking a mobile signal. Staff members update the office with the changes when a signal becomes available.
Significantly reduce paperwork
Streamline your business processes and reduce paperwork by updating all the required information electronically. Using Job Tracker Mobile a job can be updated as soon as it is completed, together with job sheets, notes and customer signatures. Improve cash flow by enabling invoicing to happen as soon as the job is finished. Effortless communication with your mobile workforce Job Tracker Mobile provides full support for your mobile workforce. Keeping them informed about new jobs as soon as they are allocated, any changes to existing jobs, and enabling a log to be kept of when a staff member arrives or leaves the customer site.
Confused
Multiple engineers going to the same site on different days with multiple visits? It doesn't take long before it becomes a headache just trying to figure out who needs to be where? Whether you prefer looking at a diary, a whiteboard, or a colour coded list of live jobs, Job tracker Professional provides you with three visual tools showing you where your engineers are right now, what jobs are being worked on and any free time slots that are available.